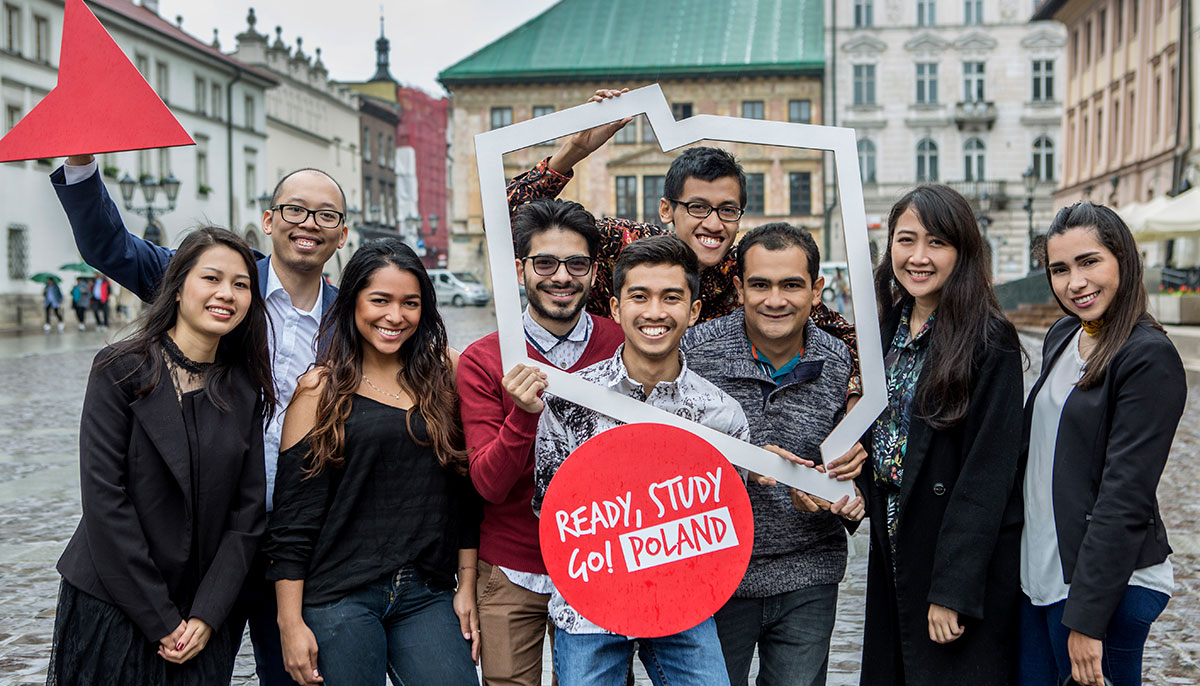 We invite you to discover Poland – a modern and dynamic member of the European Union where education really counts and which offers opportunities for young people aspiring to get a European degree. Foreign students coming to Poland can expect an attractive and diversified educational curricula which meet high European standards – they can study medicine, biotechnology and engineering, as well as art and business.
5 REASONS TO STUDY IN POLAND
No matter the city or the course, choosing to study in Poland is a great idea. Here are just a few reasons why.
1. So many options
In Poland there are more than 1.1 million students studying at almost 400 universities, multiple study programmes (in English or Polish), and hundreds of language classes. There is also an abundance of art colleges to choose from, as well as faculties of humanities and universities of technology, complete with fully equipped laboratories and supercomputers. While studying in Poland, you will have a chance to enter a competition with NASA, or become part of a prestigious scholarship programme for those interested in the humanities (such as ancient and modern languages, literature and philosophy). Polish business schools deliver world-class education in management and finance (also as double-degree programmes) and are internationally accredited. See for yourself – over a million student can't be wrong, can they?
2. Study in the centre of Europe
Poland is the place where you can earn a degree that will open the door to the best companies in Europe, even some of the best in the world. The country has many other perks, such as the fact that its medical schools are accredited in the US and that, while studying in Poland, you have access to the EU's study programmes and can do internships or traineeships abroad. With top-quality, internationally recognised degrees, almost no other region in the world can set your career off to such a promising start. Do not forget that with favourable geographic location and excellent transport connectivity the whole European Union is at your fingertips.
3. Live in a student city that's bursting with different cultures
Study in the European Capital of Culture Wrocław, artistic Kraków, hipster Warsaw, multicultural Lublin, academic Poznań or coastal Gdańsk. There's something for everyone in each city, from student pubs, to vegan restaurants and art galleries. Mingle with the crowd at the Palace of Culture in Warsaw, explore Kraków's Wawel Castle, go skiing in the Tatra Mountains or sail in the Masurian Lake District.
4. Ideal for a student budget
If you dream of being independent and going abroad, but worry about the cost, Poland is ideal for a student on a tight budget. Dormitories start from €60 a month per student, cinema ticket starts from €2,50, and a lunch in the cafeteria starts from €2. No wonder Warsaw is the most affordable European student city according to 2016 QS Best Student Cities index.
5. Great career opportunities
Studying in Poland is just the beginning. Those wanting to start their own business, or find a job in an international company would benefit from a longer stay. Foreign companies operating in Poland prefer graduates from Polish universities. Akademickie Inkubatory Przedsiębiorczości ('Academic Incubators of Entrepreneurship') is a community that will help start your business, and the Technology Parks are also at your disposal. Additionally, there are the Warsaw Innovation Days, where start-ups can attract the attention of foreign investors.
Text: National Agency of Academic Exchange NAWA For more information, see www.nawa.gov.pl and the official website of campaign Ready, Study, GO! Poland: www.go-poland.pl
Interview with Singaporean, who did studied in Poland
Read more