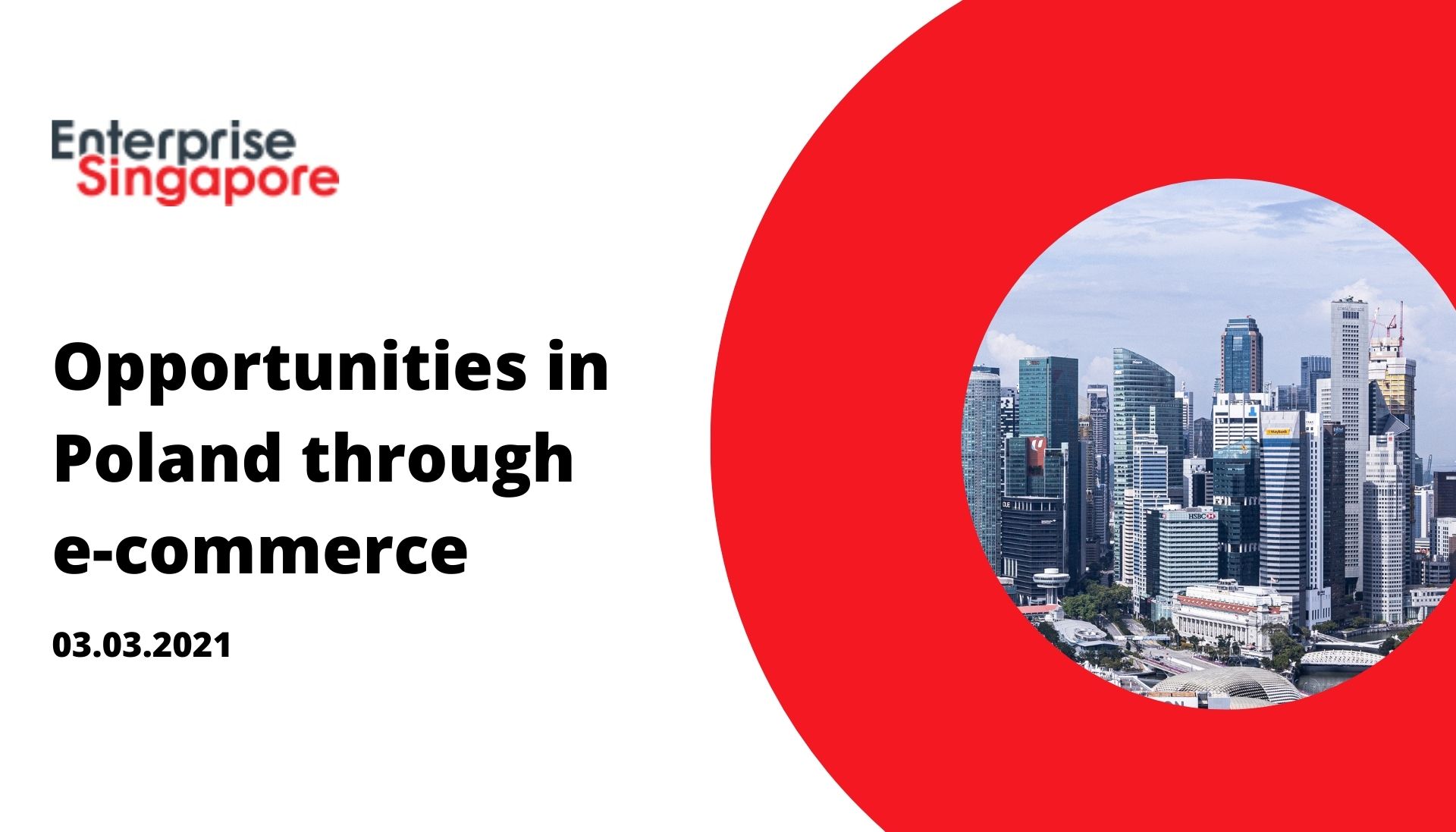 Opportunities in Poland through e-commerce
WHEN
3 March 2021
5:00 - 6:30 PM SGT
Join us in a live webinar and panel discussion on the 3rd of March with experts from LOT Polish Airlines, Allegro, OEX and Siemens.
THE E-COMMERCE MARKET IN POLAND
Poland is the largest economy in Central & Eastern Europe and the 8th largest in the EU. A majority of its 38.5 million-strong population is under the age of 55 with high levels of education and skill. From 2017-2019, Poland's economy grew consistently at 4% – 5%, driven by its strong manufacturing, ICT, real estate, and business services industries.

Internet penetration and digital connectivity within Poland's population is very high; 95% own a smartphone and 50% are active Social Media users. Together with Poland's strong economic growth, a new internet-savvy generation of shoppers is set to drive up the country's e-commerce growth which is expected to be 10.6 percent (CAGR of 2019-2023).
Program:
5:00 – 5:05 pm – Welcome remarks – Elena Lee, Regional Director Enterprise Singapore
5:05 – 5:15 pm – Poland as a logistics hub in Central & Eastern Europe – Aleksander Czechowski, Business Development Manager, Polish Investment and Trade Agency
5:15 – 5:25 pm – Polish e-commerce market – Sezin Ata Diler, Business Development Manager, Enterprise Singapore
5:25 – 5:35 pm – E-commerce opportunities in Poland for Singaporean sellers – Kacper Rozenbaum, Head of International Sales, Allegro
5:35 – 6:25 pm – Panel discussion: Key success factors for international brands in e-commerce – Moderator: Joanna Pawluczuk, Managing Partner, 2Market Global
Panelists:
Kacper Rozenbaum, Head of International Sales, Allegro
Piotr Przybylski, Sales Director, OEX
Michał Grochowski, Cargo Director, LOT Polish Airlines
Jaroslaw M. Jankowski, General Manager ASEAN, Siemens Logistics
Kanthiban, CEO & Founder, Business Engineers Asia (BEA)
Sara Gerdner Kalle, Head of Group Sales, SingPost
Jason Tay, Director of Regional Business Development, M-DAQ
6:25 – 6:40 pm – Q&A Session
Please find the link to the recording of the webinar here.
Opportunities-in-Poland-through-eCommerce_final-22.02.2021

---
SUPPORTING ORGANISATIONS:

MARKETING PARTNER: