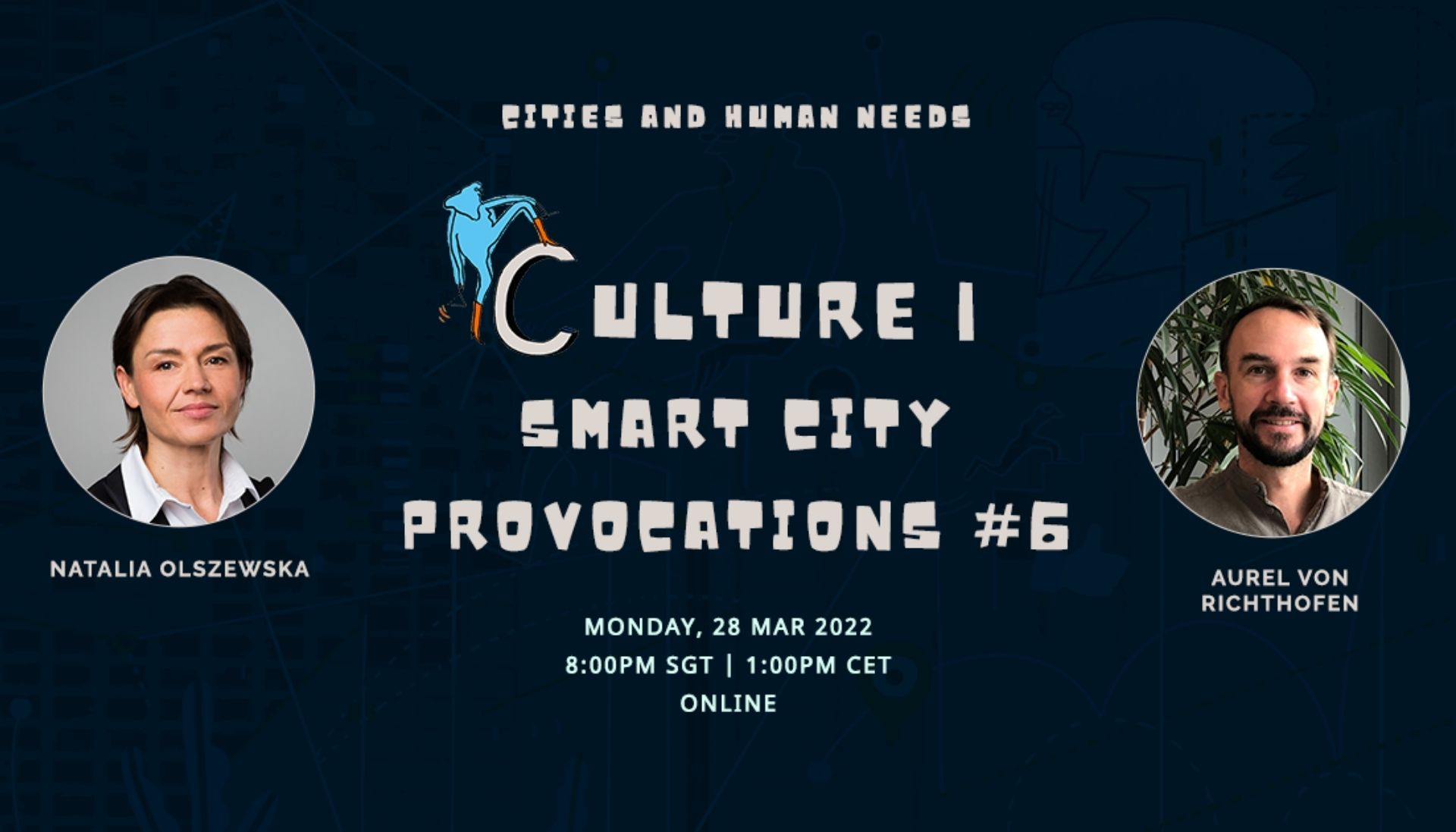 EUNIC Culture / Smart City Provocations #6
WHEN
WHERE
8:00 PM SGT I 1:00 PM CET Online
ᴄᴜʟᴛᴜʀᴇ | ꜱᴍᴀʀᴛ ᴄɪᴛʏ ᴘʀᴏᴠᴏᴄᴀᴛɪᴏɴs is a series of live virtual dialogues and events exploring what could and should be the role of urban cultural transformation in the future smart city.
Cities and Human Needs considers the role of conscious design, ethics and well-being in an era of advanced technologies, big data and social networks.
To find out more about how recent knowledge developments in cognitive and behaviour have been informing urban and architectural design, join us for a dialogue between Natalia Olszewska, a researcher and practitioner in Neuroscience Applied to Architectural Design, and architect and urban scientist, Dr. Aurel von Richthofen.
Monday, 28 Mar 2022

8:00PM – 9:00PM SGT | 1:00PM – 2:00PM CET

Online event. FREE
About the Speakers:
Natalia Olszewska is a Researcher and Practitioner in Neuroscience Applied to Architecture. She is the Co-founder of Impronta, a neuroscience consultancy for architecture, as well as a faculty member at Università Iuav.
She works between disciplines and aims to create insights that can change our architectural and urban environment and make it more people-centred and healthier. At work, she combines her deep care for people and their well-being with her passion for architecture and design.
Her specific professional interest is the impact of architecture on different aspects of our lives: social, behavioural, health & well-being and cognition.
Aurel von Richthofen is an architect and urban scientist. He leads the Cities team for Arup Germany in Berlin and researches at the Future Cities Laboratory of the ETH-Singapore Centre.
His focus is on foundational technologies for digital twins and smart cities, as well as on circularity and sustainable urbanisation using artificial intelligence.
---
For more about Culture |Smart City and other programmes, check out: