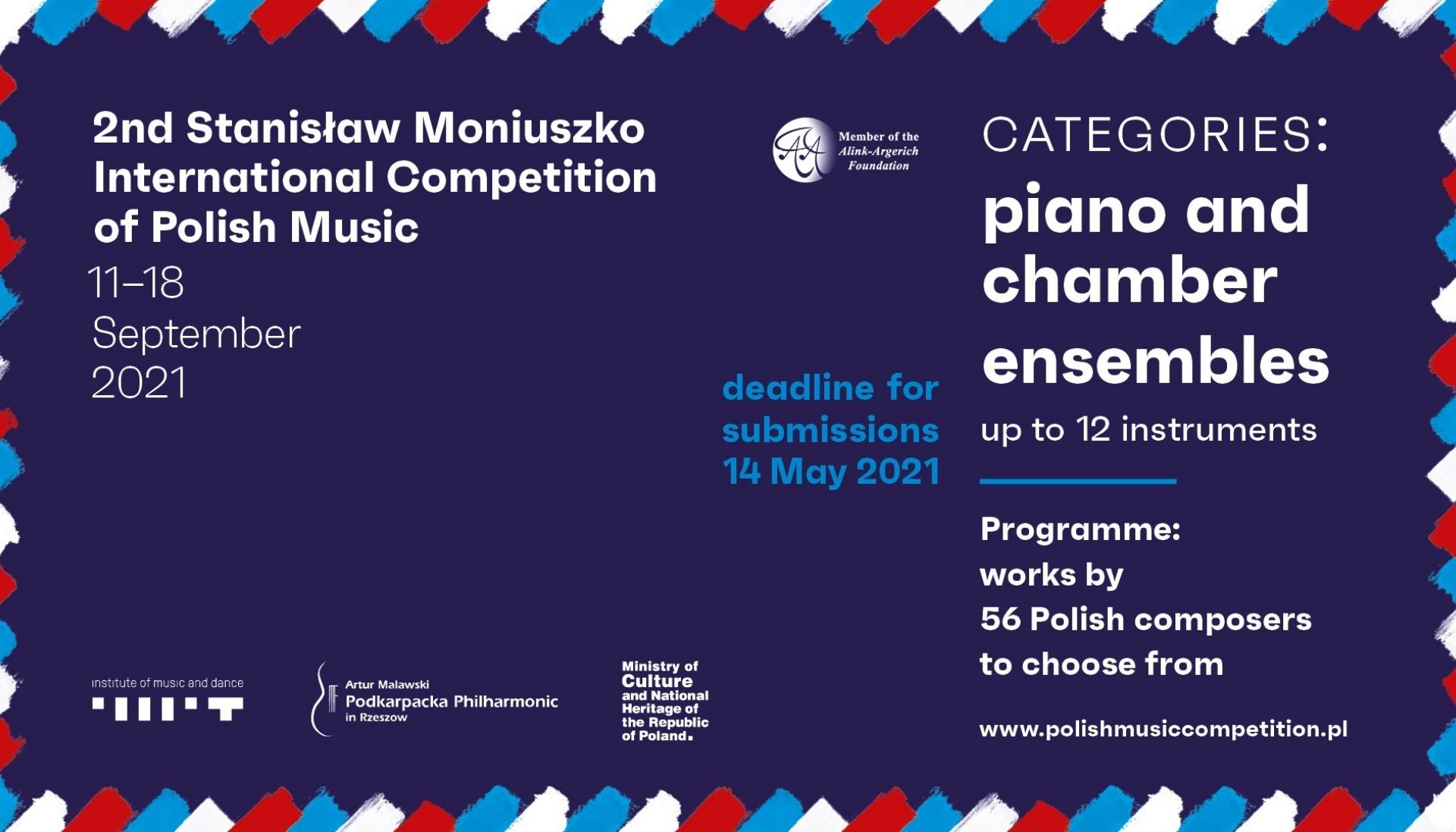 2nd Stanisław Moniuszko International Competition of Polish Music
WHEN
The Institute of Music and Dance in Poland is organizing the 2nd edition of the Stanisław Moniuszko International Competition of Polish Music.
It will be held on September 11-18, 2021 at the Artur Malawski Podkarpacka Philharmonic in Rzeszów. The deadline for entering the competition has been extended till May 31st.
The competition is open to musicians-instrumentalists who apply individually (pianists) and as chamber ensembles (from duos to twelve-person ensembles). There are no restrictions in terms of the age and nationality of the participants. During the competition, the musicians will present works selected from amongst those written by 56 Polish composers mostly active in the nineteenth and twentieth centuries. The participants create a program that they will perform in the successive stages of the competition.
Participants will compete for a total prize pool of over 80,000 euros in two categories – piano and chamber ensembles. The main financial awards are funded by the Ministry of Culture, National Heritage and Sports and Institute of Music and Dance in Poland.
---
STANISŁAW MONIUSZKO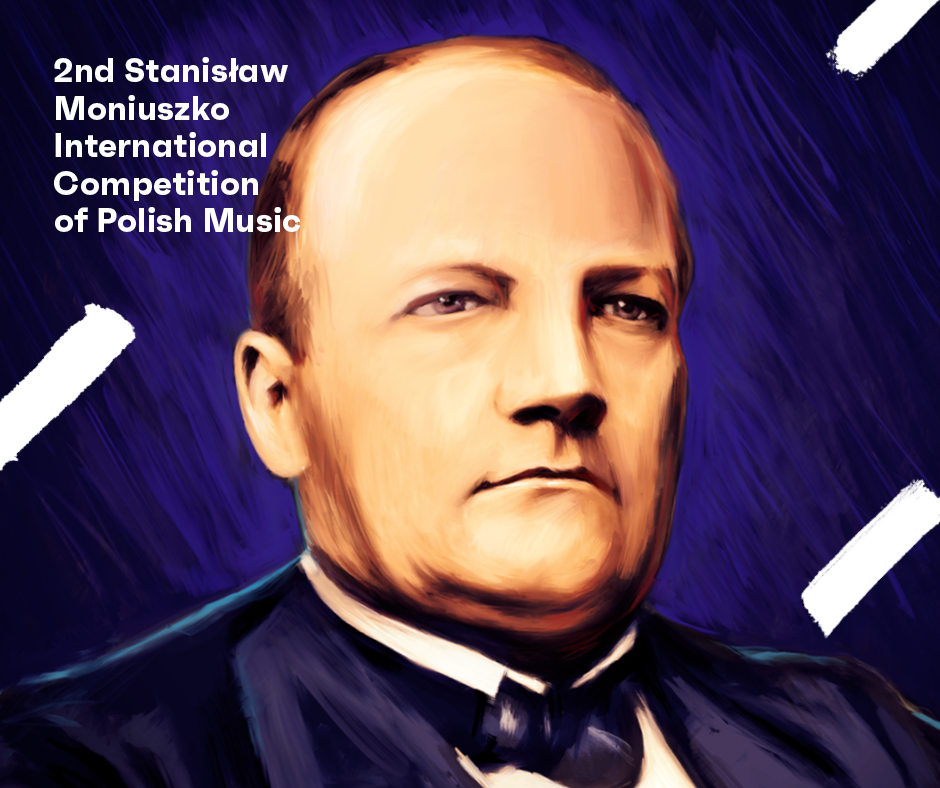 On the 5th of May 2021, we celebrate the 202nd birthday anniversary of Stanisław Moniuszko (1819-1872), composer of songs, operas, operettas, ballets, conductor of operas, symphony orchestras and choirs, organists and music teacher, patron of @polishmusiccompetition.
He is a leading artist in our #ICoPMcomposers series, whose works you can select for your repertoire as part of the 2nd International Polish Music Competition (Rzeszów, September 11-18, 2021).
Stanisław Moniuszko was born in the village Ubiel on May 5, 1819. Following a short spell of home education with his mother, Elżbieta, Moniuszko started to learn piano in Warsaw, then Minsk and Vilnius. In 1837 Moniuszko left for Berlin, where he took private instruction in harmony, counterpoint, instrumentation and conducting with Carl Friedrich Rungenhagen, the director of the Singakademie Music Society. Meanwhile, Moniuszko practised, conducted choirs, accompanied singers, studied the great operatic, oratorio, and symphonic repertoires and investigated the pre-staging process as well as conducting technique, and took part in rehearsals carried out by Rungehagen and by Gaspar Spontini, who visited Berlin at the time.
Moniuszko returned to Poland in 1840. He married Aleksandra Müller (with whom he had ten children) and settled down in Vilnius, where he took the organist's position at St John's Church. Moniuszko contributed greatly to the local revival of music scene. In the meantime Moniuszko travelled to St Petersburg to introduce its audiences to his own compositions. They were received with acclaim and had favourable reviews. The trips helped Moniuszko to make friends with Russia's leading composers and musicians, including Mikhail Glinka, Alexandr Dargomyzhskiy, Cesar Cui, and Alexandr Sierov.
In 1848 Vilnius saw the premiere staging of the first, two-act version of Moniuszko's opera "Halka", conducted by the composer himself. Six years later, with the help of Achilles Bonoldi, Moniuszko established St Cecilia's Society. Following the triumphant Warsaw premiere of the new, four-act version of "Halka" on 1st January 1858, Moniuszko embarked on a artistic trip to Germany and France After return he was appointed the first conducted of the Polish Opera at Grand Theatre in Warsaw (nowadays @operanarodowa) on 1st August 1858. The same year Moniuszko put on his one-act opera "Flis", followed by the stagings of all of his subsequent operas over his fifteen-year term. Moniuszko's conducting projects focused almost exclusively on his own compositions. From time to time he would also conduct Warsaw church choirs and would appear as a conductor at the annual composer concerts.
In 1862 Moniuszko went to Paris again, hoping to have one of his operas staged there, but it never happened. The difficult political situation at the time and after the 1863 January Rising was not conducive to practising art, and Moniuszko's composing pace slowed down. However, the 1865 staging of his opera "The Haunted Manor", was received enthusiastically, its success was comaparable to that of Halka's. In 1864 the composer launched a series of lectures in harmony, counterpoint and composition, and led a choir group at the Institute of Music (nowadays @UMFChopin). Among Moniuszko's students were Zygmunt Noskowski and Henryk Jarecki.
Moniuszko died of a sudden heart attack on June 4, 1872. His funeral became a great national event, and around 60,000 to 100,000 people could have attend it. He was buried at the Powązki Cemetery in Warsaw.
Moniuszko's music has gained wide recognition in Polish society and is commonly regarded as a model of "Slavic" music, and Moniuszko himself is often called "the father of the national opera". Most of the composer's memorabilia are kept by @warszawskietowarzystwomuzyczneWTM, which celebrates its 150th anniversary this year.
We invite you to listen to Moniuszko's String Quartet No. 1 in D minor performed by the laureates of the 1st International Competition of Polish Music Stanisław Moniuszko 2019, @atmaquartet:
https://www.youtube.com/watch?v=eP1eWhdyKNo
The piece was also recorded on the album "The Stanisław Moniuszko International Competition of Polish Music 2019 vol. 1" available to listening on main digital platforms and physical copies to purchase at good record stores.
---
Marcin Władyka (1975) is a graphic designer and visual artist, graduate (1999, diploma at Prof. Mieczysław Wasilewski graphic design studio) and lecturer at the Akademy of Fine Arts in Warsaw. In his poster, graphic and drawing designs he continues the allusiveness and metaphorism of the so-called Polish School of Poster.