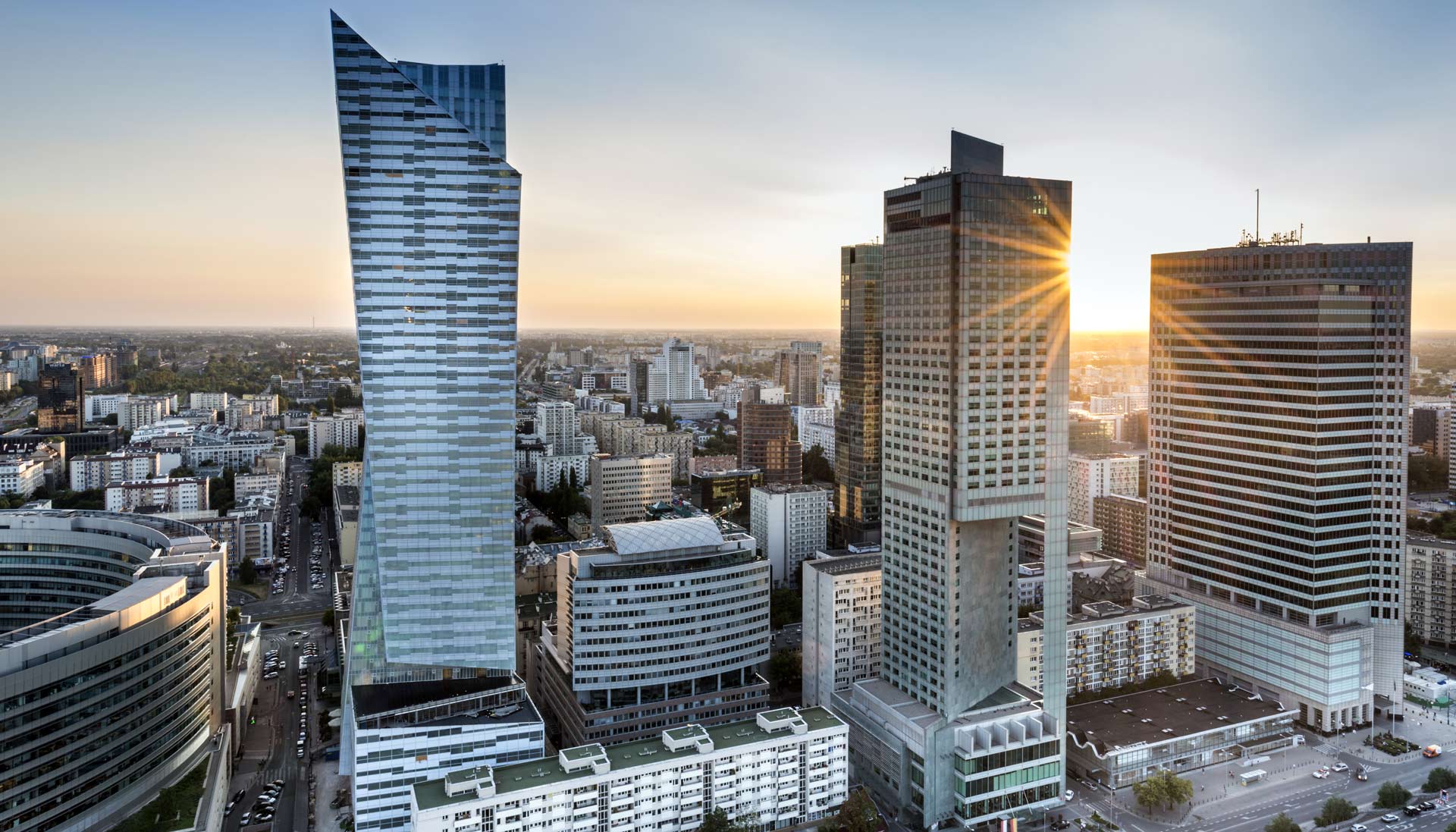 Warsaw HUB for Poland
WHEN
Warsaw, the beautiful, rapid developing capital of Poland is full of history and the perfect place to begin your journey across the country.
Spend a few days in Warsaw and be surprised by the diversity it offers! Modern skyscrapers are situated alongside colorful old town facades, almost completely rebuilt after World War II. Tourists and residents spend weekends by the Vistula River, in a famous Lazienki Royal park, or getting ready to enjoy the night life in one of many great spots around the city center. In a stunning blend of culture, Warsaw's alternative club sounds fuse with Chopin's masterpieces while palaces are surrounded by urban architecture. Happy children visit the Copernicus Center for an enjoyable experience, while visitors to the Warsaw Uprising Museum leave with a pensive mood. Be immersed in a diversified foodie experience as you choose to indulge in delicious traditional Polish dishes or countless world cuisine. Can you imagine such an exciting adventure is only one flight away from you? And there's so much more waiting for you in Poland!
Thanks to LOT Polish Airlines' domestic flights network, you can get to explore and know the country even better!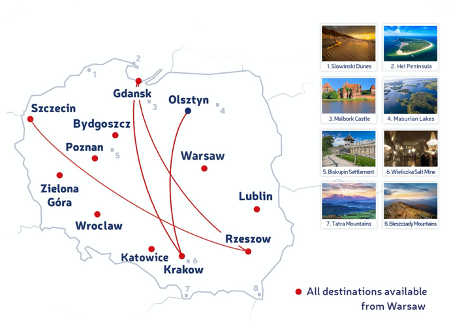 Poland – More than You Could Ever Expect
It's impossible to name all attractions of Poland, but by travelling on LOT's network, you would be able to see most of them. Each of the cities marked on the map is worth visiting, and each of them (except Olsztyn) are connected to Warsaw by LOT directly. In Krakow you will find the most famous royal castle in the country – Wawel Castle. An incredible Main Market Square and the nearby Wieliczka Salt Mine are absolutely worth mentioning as well. All these landmarks are some of the most important UNESCO heritage list examples in Central Europe. Would you like to visit both Warsaw and Krakow? Choose from one of LOT's four daily flights which will only take you 55 minutes of travel time to get from one to another! Eat breakfast by the Vistula River in Warsaw and by lunch time, you could be indulging in your next meal by the same river, but in Krakow.
Warsaw, Krakow… What Else?
LOT's domestic network allows you to explore the country conveniently. Each connection time is less than one and half hours long, which helps you to maximise your time in the country. Moreover, each part of the country differs significantly, so we encourage you to spend as much time in Poland as you can, and fly from one region to another. For example, once you're in Krakow get on board LOT to travel to Gdansk, a well-known city, located on the opposite side of the country. Here you may find the coastline, historic ships, harbors, and sandy beaches instead of the hills and mountains you witnessed around Krakow. Gdansk is also the hometown of the Solidarity movement, which made history in the late eighties, fighting against the Soviets-oriented regime. From here take a trip to see the greatest medieval castle in Europe, Malbork, or one of many wonderful landmarks by the Baltic Sea.
Discover Poland with LOT
LOT conveniently fulfills your wanderlust by connecting you to all of Poland. Our crew will make you feel welcomed and take good care of your safety during the journey. If you have any questions about the country, don't hesitate to ask our flight attendants, and always remember to consider Polish Tourism Organization's recommendations. It doesn't matter where you conclude your tour in Poland, once you're ready to come home, you can easily book tickets to Singapore from any one of the 11 cities that connects to Warsaw. Transit via Warsaw is easy and effortless, and remember to choose to fly via LOT for the most efficient connection times. Our staff at the airport will help you transfer and ensure you're ready to take off home on board LOT's Boeing 787 Dreamliner.
Poland with LOT